Simply Spectacular Sunflower Field Stake Out
2021 is the Year of the Sunflower, and during the month of May we couldn't think of a better time to grow a field of our own. Introducing our Simply Spectacular Sunflower Field!
A collaborative project with the American Public Gardens Association to promote "Go Public Garden Days", this field will feature hundreds of Helianthus annuus "Mammoth Gray Stripe" sunflowers which grow up to 9' tall.
You can stake out your very own sunflower with a $35 donation which includes a personalized sign placed in the field. Honor a special person in your life – mom, graduate, friend, bird lover or sunflower lover!
We hope you will help us celebrate the Year of the Sunflower in this very special way. To make your donation, visit the link below:
What you'll see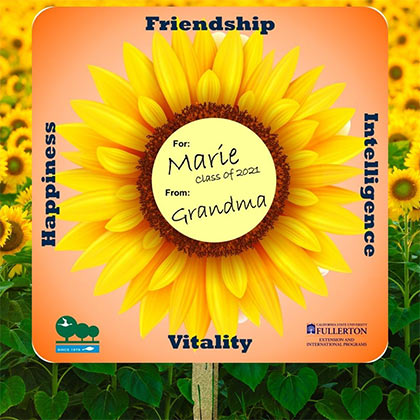 Your contributions will create a beautiful field of sunflowers, surrounded by signs with the names of donors and recipients of these gifts. It is a visual representation of how the Arboretum staff, volunteers and donors work together to make great things happen in our gardens.
Thank you Guida Surveying (Irvine, Ca) for donating the wooden stakes for the project.
"I can't wait to surprise my mother-in-law for her 75th birthday with a sunflower dedication at the Fullerton Arboretum. Sunflowers are her favorite flower, and it always reminds her of her late husband. Witnessing the growth over time will be beautiful."
- Debbie V., Chino Hills, CA
Where is the field?
Our volunteers are hard at work preparing the field.
Watch your sunflowers grow
Arboretum volunteers will be adding the signs to the garden each week, so follow our social media, website and email updates as we post our progress through photos, videos and more. Check back often to see how much they have grown!
Thank you for supporting Fullerton Arboretum! You can also make additional donations or become a member here: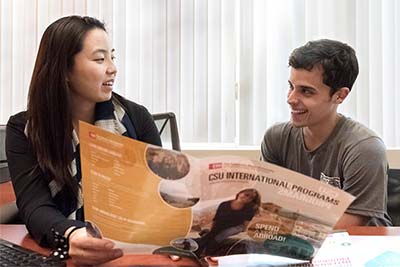 Advising
No matter where you are in the Study Abroad process, our advisors are always here to help you create an ideal Study Abroad experience that will align with both your personal and academic goals. To schedule an appointment or learn more about walk-in advising, please visit our Contact page.